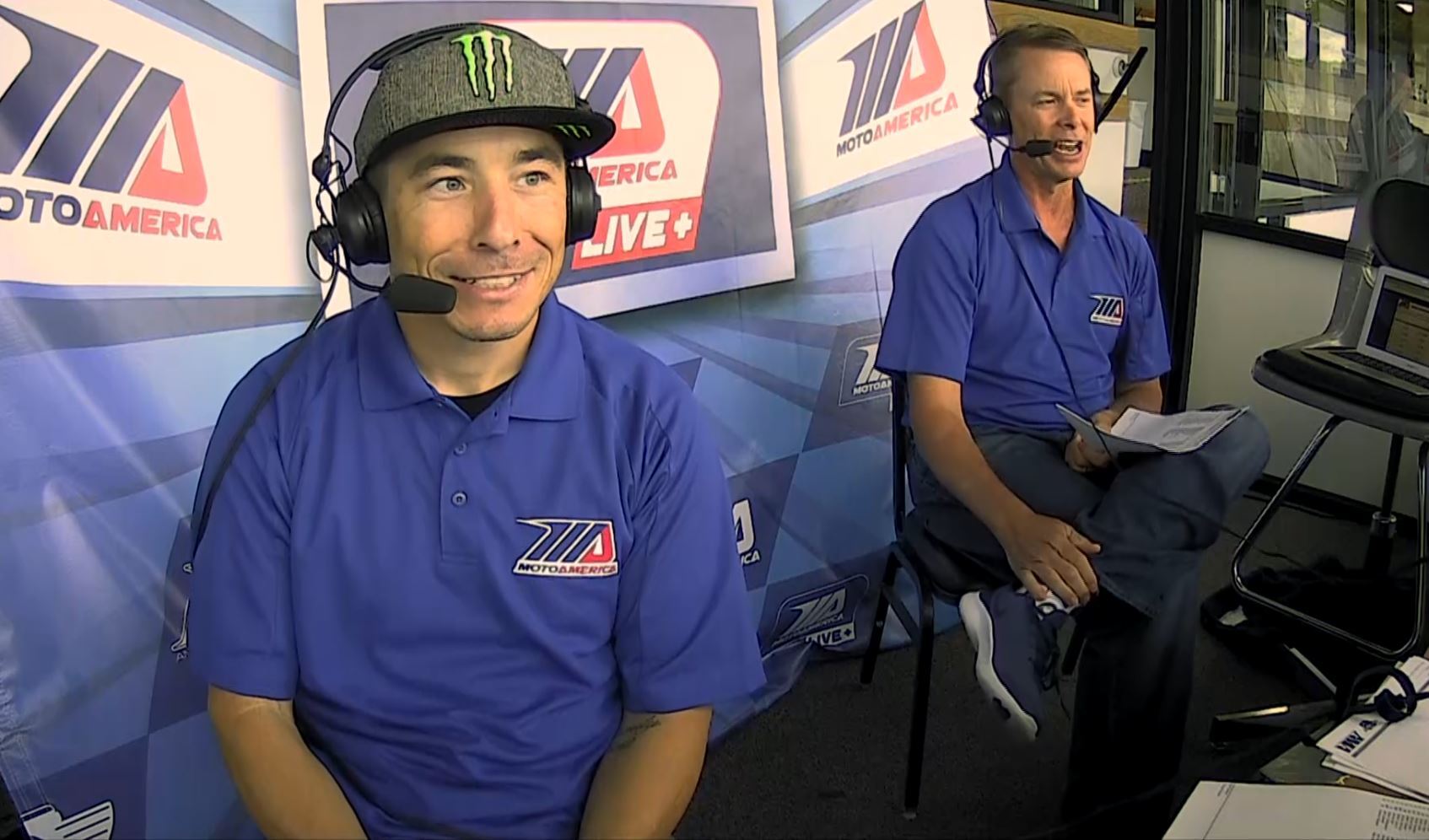 Roger Hayden retired from MotoAmerica Superbike racing after the 2018 season, but the youngest Hayden brother is still very much involved in the Series now as a color commentator for Live+. Sean Bice and Paul Carruthers talked with him recently, and here's how the conversation went:
Sean: I almost wanted to call you an elder statesman of our sport, but that's a little rough. So I'll just say it's about time we did an interview with Roger Hayden. He's a great person to talk to. He's currently involved in doing color commentary on our race broadcasts, and he's still very involved in our sport.
Roger, we're doing this interview at Michelin Raceway Road Atlanta, which is kind of a home track for you, wouldn't you say?
Roger: Yeah, for me it was for sure because growing up, every year the WERA GNF was here at the end of the year, the Grand National Finals. So I grew up coming here a lot. Also throughout the year they would have races here. I've been coming here for a long time. I was here when they had "gravity cavity." That was a long, long time ago.
Paul: You guys came here when you were little kids on 125's and stuff, right?
Roger: Yeah, we were really young. Eleven, twelve years old. So I've been coming here for a while. It's not too far from home, six hours. I remember one year me, Tommy and Nicky were all racing here. We had 200 tickets for people from our hometown, and they all came. They named that hill over there in turn ten Hayden Hill because it was just all people from Owensboro.
Paul: If you had 200 tickets, you had to have gotten ten people from another town then. [Laughs.] I went to Owensboro for Nicky's deal and I was like blown away. You hear all the talk and you think it's just some podunk little town.
Sean: It's a bigger town.
Paul: It's a nice, little city. I guess they've revamped it. I hadn't seen it before, but it's really nice down there now.
Roger: Yeah, it's definitely nice. They spent a lot of money on the downtown part. I'd say some people probably made some tickets, too. Probably copied them and sold them at the front gate.
Sean: Talking about your town a little bit, Roger, before we get into racing and stuff, I wanted to ask you about the new Nicky Hayden Memorial Apartments that are in Owensboro. Can you tell us about that? We saw some photos on social media about that whole thing. Tell us how that works.
Roger: Yeah. My family, especially my parents and my dad, they do a lot of stuff in the community and it's kind of therapeutic for them. They decided, they have this other place that works with kids, and now they did one with the homeless shelter in Owensboro, but they built these apartments for single parents, to help them transition from homelessness to independence and get their lives back on track. They just freshly got built. We just saw them last week. They're really nice. It's just to give back. Our family wants to keep Nicky's legacy going so we do a lot of stuff with his foundation. That's one of the things that we do with these apartments. It's a really cool thing. It helps you put your own life in perspective. Sometimes you think about how rough you have it. I am able to travel here, travel there, and then you see families where some kid has been wearing the same shoes for two years. It really helps put things in perspective. They're going to put in a playground before long for the kids. There are going to be classes and all that. So it's not just a shelter for them to come stay. It's to hopefully temporarily come there, get your life back in order and get a job, get everything, and then move on to your own place.
Sean: That's really nice. Speaking of Nicky, as we do this podcast today, today is Nicky's 39th birthday. Let's talk about it as a celebration. Tell Paul and I and the fans, do you have any interesting stories about any certain birthday that Nicky had? Anything about a cake or a present he got? I'm sure you've got a story.
Roger: I remember we had a couple pretty big parties for his birthday. Nothing really too exciting that stands out that's just a great story. It's kind of hard not to be sad. It is a reminder but at the same time he doesn't want us to be down or sad so it's like a day of celebration. We had some pretty cool parties. I remember one time we had this blow-out pool party and we asked my parents. We were going to have ten people come over. You know how it is when you're a little bit younger. You tell ten friends, and ten friends tell ten friends. Next thing you know there's 60 people at my parent's house. That was pretty fun.
Sean: You probably are as busy now as you were even when you were racing, if not more busy. I know you're doing stuff for the Champ school (Yamaha Champions Riding School). You're doing this commentary for us. Tell us what you've been up to lately.
Roger: Really during the pandemic and stuff I wasn't that busy. It just seems like there's nothing to do, and then all of a sudden there's a bunch of stuff within like two weeks. I'm really excited to be doing the commentating stuff with MotoAmerica and the Live+. It's something new and something I have to learn. It's not as easy as I thought it was going to be. Sometimes during a session, like at Road America when it's raining and nobody is out there, we still have to fill that thirty minutes. So some of it's kind of hard. It's also getting used to somebody speaking my ear whenever I'm talking.
Sean: I don't know how you do that. It's so hard.
Roger: Really the beginning of it, I wasn't that talkative because I was always so afraid of screwing up, but it's just like racing. You can't be afraid to fail. The more seat time I get, the more comfortable I feel. Now I really feel like I'm getting in my groove. I'm starting to do some schools with the Champ school. It's so much fun for me because not only do I get to give back and help people learn about this sport that I love and ride safer and ride faster, but I get to go ride all kinds of different bikes. Whenever I was riding for Kawasaki all I would get to ride was a Kawasaki. I've been riding Suzuki since 2011, and that's the only thing I've rode since 2011 was a Suzuki 1000. So now I've got to ride an R1, a Ducati. I rode the Yamaha 400 one time. I rode an R6. Just going riding and not worrying about a lap time. This past week, I figured out how to turn all the electronics off, so there's no wheelie control, no traction control. I was just leaving these fat, black lines all the way around the whole track. It's just been cool to go and ride for fun again.
Sean: Do you miss the racing part a lot?
Roger: There's part that I miss, for sure. I miss the good days. I miss the feeling of winning. But there's a lot of other stuff that I don't miss.
Paul: Like at VIR when I gave you a ride back after your crash, and that part of your body between your two legs was kind of smashed? I don't think that was a good day.
Roger: Yeah. I don't miss the crashes. That's one thing that I don't miss. There's a lot. I think when an athlete retires there's always going to be things that you miss, but you always have to look back at the reason why you retired. Sometimes I go to these schools and I start to get in a pretty good rhythm and riding pretty good. People start saying stuff and it's like, maybe…
Sean: People are encouraging you to keep racing?
Roger: Yeah. Then I had to bring myself back to reality.
Sean: You were as definitive as any rider I've ever seen about, "I'm not going to be racing," but I think you were dealing with some injuries at the time. You had maybe a year of some time off and you started getting healthy again. You did some flat track. I think you got probably as healthy as you've been in a long time and maybe you thought, "Hey, I can still kind of do this somewhat?" Is that a fair assessment?
Roger: That's really fair to say because my last year riding I was having a lot of problems with my shoulder. If I was going to race again the next year, I was going to have to get it fixed. I went and got it injected a couple times my last year, but then like I said, I stopped racing and I stopped doing all that stuff. I didn't do anything for so long and then when I started back riding again I had no shoulder pain, all this other pain had gone away. It was like, maybe that's what I needed. But you can't take that time off if you're going to race the following year. I can't just tell Suzuki or another manufacturer, I'm not going to train until the season starts. Now that I feel good – and the flat track was like a cool transition from full-on to doing a couple races. It didn't matter how I did. Then doing this MotoAmerica stuff is actually a lot of fun, because I do enjoy being at the races. Even though I'm not riding, I still love being here and being around the people. I grew up in this paddock, basically.
Sean: It's funny. We know that you've always been appreciative of your fans. We see the comments that you see regarding people, we'll post something that's got you on it and they're like, "We love Roger on the commentary." We get it in the inbox all the time. "We hope he'll continue to do it." I've talked to you a couple times and it's got to be great for you to hear that, and encourage you to want to do it more. It's probably helping you to even have more fun with it, right, because they like what they hear?
Roger: Yeah, definitely. It's always encouraging to hear, when people like your stuff or they like you, or they bring up a couple things that you said. They're like, "We never thought of it like that." It's just helping other people kind of get the feeling what it's like as the rider. Why they're doing certain things. Stuff that you wouldn't think about. It's been cool having the fans' support. It's actually doing me a pretty good job, because now the comments, the inboxes, and people see that, so now every chance that I get to fill in Chuck gives me a call. Hopefully maybe it can be full-time. Right now I'm just a substitute.
Paul: It makes it way harder to fire him.
Sean: That's right. I wanted to ask you a little about your riding. We used to hear, and I would hear or read this about Nicky. One of the secrets to his success, other than his incredible work ethic and talent, which you have as well, is the fact that Tommy is the older brother, so he would chase Tommy around. He had somebody in front of him. As the youngest brother of the three, did you have that same? Did you chase Nicky around? Did you chase Tommy around? Having those two bigger brothers, what did that do for you?
Roger: It was huge because I was always chasing somebody that was better than me. It's just like any other sport. If you go play basketball with somebody that you beat really bad every single time, you're not going to get better. If you go play basketball with some dude and you get beat a couple times, or any sport, golf, it doesn't matter. That was a huge help for me. For one, it helped me get my foot in the door earlier. I had two brothers that I could go ask for advice and I got to ride with. I got to see how they approached racing. It was a huge help because not only was I chasing Nicky, but then I was chasing Tommy as well. So it definitely always gave me a target to chase. Also being the youngest brother came with a lot of expectations. In the beginning it was hard to live up to those. I wasn't early, but finally when I did it was kind of refreshing. As the younger brother, you always want to get the respect of your older brother. The first time I beat Tommy at Barber, it was one of the best feelings. Not because, [INAUDIBLE] was my first professional race. I'm 21 and I've been trying to beat this guy for ten years and I finally did it at a huge race. Then the last couple years when I was riding here in the US, Nicky was telling my dad one time how good I was riding. You always want your brothers' approval, especially when you look up to them.
Sean: That's pretty good because a lot of times, you guys had such fun together that there was probably a lot of teasing going around. It's nice to get some legitimate praise once in a while that's not filled with joking.
Roger: We're super competitive. Basketball or anything else, argue, chasing lap times in my parents' field. When Tommy and Nicky went for the championship, and me and Tommy went for the 600 championship or race, we could always leave it at the track. We didn't bring it home and separate the family. It wasn't like, "I don't want to go to dinner. Tommy's going to be there and I have to beat him next week." Then Tommy and Nicky had the same thing before that. There was tight passes that I put on Tommy that he didn't like, and vice versa, but I knew at the end of the day you have to separate that. Not only is it a job, but that's just part of it. So I guess the best thing for us was we could separate it. Not only was it good for the racing part, but it was like that even when bicycling and training. Once you could close the gap, then you could hang with them and then you could work with them. It just always gave you something to chase. I think that's why there have been so many people in Owensboro who have been successful. JD Beach and a couple other guys. We always had good guys to train with that if you showed up and you weren't into it or you wanted to just ride around that day, you were going to get beat pretty bad.
Paul: When you look back at all the years—you did it for a long time, obviously. There's your Supersport championship year, et cetera, et cetera. Is there one year that stands out to you as the most fun or the most gratifying? In MotoAmerica, you won some Superbike races. Was that more gratifying than the Supersport title? Or is that not the case?
Roger: I think the Supersport title was so gratifying because I was chasing it for so long. One year I had a bike break and I lost the championship by like ten points. I was in third place when the bike broke with one lap to go. So, it kind of hurt my title chances. The first year, I got second. The next year that happened. The next year I won the first two races then I broke my leg and I had to sit out. I was ready to mark that off my list.
Paul: It just took longer than you thought.
Roger: It just kept taking so long. Finally I got it done. It was the biggest relief because my two brothers had won Supersport Championships, too, so I thought how cool it was that all three of us won a Supersport title. So that year is probably ranked pretty high up there. It was 2007. That year, I also did the MotoGP race at Laguna, so it was kind of cool that weekend to win a Supersport race and get a top ten in MotoGP.
Paul: Not many people have done that.
Roger: Not many people have done that. That's a pretty good day. Then 2017 was a pretty satisfying season as well just because I kind of put it all together finally. I think every race I finished, I was on the podium.
Paul: The margins that you got beat by. So many races. When I look at just the MotoAmerica superbike races, there's so many that are just like a fraction of a second between winning and not.
Roger: Thanks for reminding me.
Sean: There's one race that was before MotoAmerica that I remember. I don't know if it was 2013. You'll know. Homestead. Talk about that. Was it raining that day?
Roger: No, it wasn't.
Sean: It was the next day, right?
Roger: The next day it rained, but the day before, that race was dry and it was my first Superbike win. That was definitely satisfying because I led it from start to finish. To win your first Superbike and to do it for Michael Jordan was really cool. I was just telling somebody this story the other day. Somebody from the team texted me and said, "Michael is going to call you later and tell you good job." I started thinking to myself, when he calls, if he calls, I'm not going to keep him on the phone too long because I don't want to be one of those people. Then he'll never call me. So as soon as he calls and I answer, I just think, "Get him off the phone." I was like, "All right, man. Thanks. I got to go. I got a race tomorrow." It was literally like ten seconds I left him on the phone and I hung up. I was like, oh my God. What did you just do? It's a pretty funny story.
Sean: That's what happens to me when I call you. I'm always like, I want to talk to you a lot longer, but I got to make sure you'll talk to me the next time.
Roger: Twenty minutes is all the time I got, Sean.
Paul: It's only twenty minutes and you haven't even said anything yet. That's just the intro.
Sean: I haven't even gotten to the question I was going to ask yet. I remember distinctly that Homestead win because your dad was there, and I remember he was up in the media center. It was such a cool moment for you and for anybody that was following your career. Even for me personally, I was just so happy for you.
Roger: It had been a while since I won a race. I didn't win since '07, '08. I broke my back and pelvis, and then I did the World Superbike thing in 2010 which wasn't a success. Then '11 and '12, and then finally to break through and get a win after such a long gap in Superbike. Another thing, my brothers had won superbike races and I hadn't. It was like, now I've kind of joined in their club that they're in.
Sean: Obviously, the name Hayden gave you some inroads into racing, but clearly you're a talent and you developed that talent. One of the things I've never understood about families – and I'm a father. My son went through a time when I got him involved in motorcycling but he was never all that interested in it. I never understood how your dad raced, your mom raced, your sisters raced. All of you did. Have you always had fun with it? Is it like, this is what I need to do because the family wants me to do it, or did enjoy it?
Roger: No, I actually enjoyed it. Some of my favorite experiences growing up and memories with my brothers is tinkering in the garage with race bikes and going camping when we were club racing. The whole family went. I was actually just telling somebody the other day, my sisters are probably the ones who sacrificed the most for me and my brothers because there was a lot of times where one brother had to go somewhere and another one somewhere else, and they would have to go stay somewhere. Our sisters were like our biggest fans, and always have been. But to get back to your point, it wasn't like I ever felt like I had to race. It was always something that I wanted to do. Then I just did it so long, I just didn't know any better.
Sean: It's just what you did. It's muscle memory after a while. We talked about the family thing, but I also want to know… You're a pretty incredible fan of all sports. Certainly football. We know you're a huge Chicago Bears fan. Also Kentucky basketball. I know you like basketball. I don't know if you're still playing pickup games like you used to with Jake and all that. Can you equate motorcycle road racing and the training that you have to do with stick-and-ball sports? Make the comparison.
Roger: I think there's different training for every sport that you do. The elite guys in racing have the same work ethic, the same grind, the same mentality, the same as the guys in the motorcycle world at the top of their game. I don't think you can transition the training because it's different for each sport. The guy who puts in the most work usually stays around the longest, has the better career. I think all that is pretty close. The guys who don't kind of fade out, just like in the real sports. Like I said, I think it's just the guys with the mentality, the killer instincts, it's the same with racing. It's the same with real sports. There's some people who are gamers. Tom Brady, he just loves pressure. I think that's relatable. Look at a guy like Valentino Rossi. He was so far back the week before at Jerez, and then he puts it on the podium the next week. Pretty impressive. I'm a huge sports fan. I love the Chicago Bears, unfortunately. This is our year, again. But I love fantasy football, too. Those websites with those other games and just making the lineups. I just like sports.
Sean: One of the things related to the sport that I want to understand, we all know with football—we'll talk about football. We see this with our teams. The coaches, if that player doesn't practice during the week leading up to the game, they won't play, or they can't play. You always hear the coach going, I have to see him practice. You guys as racers, I know you train on bicycles, you do turn-track stuff, but you don't get on your race bike every day, let alone every week. You only see the bike from one round to another. I never understand how you don't race for so long, a month, get back on the bike, and it's like you've been on it the whole time. There's been never any issue.
Roger: You actually hear so much about that in motocross where somebody will do an interview after the race on Saturday night and be like, "Well, I didn't get to ride all week." It's like, dude, you just raced six days ago. Did you forget in six days? I think for us it's everybody is in the same boat. I think that's one reason why it's the way it is. I just think you just get used to it. Everybody does the same. There's a lot of guys who do a lot of riding off-season, like the guys who live in Southern California and all that. I actually think they start the season stronger because sometimes it takes a while to get in a groove. If your team doesn't do any testing, if you ride for a team and you don't test and then you start racing, those guys who have all the practice, I just think they start the season better. Especially if you're a young guy, the more seat time you can get is better. But you're right. If you think about how many times we're actually on our race bike throughout the whole year, it's not very much.
Paul: It would probably be interesting to see when there's back-to-back races like these two, here and then Pittsburgh, how that affects things. If you compare the first session at Pittsburgh next week, compared with Pittsburgh last week when there wasn't a race before it, it would be kind of interesting to see if they get up to speed a little quicker.
Roger: I think some riders handle it differently. You'll see some guys, I was kind of like this in the beginning for a while, was kind of a slow starter, then the last half of the season I'd be really strong. You see that with the other guys. I think that's just after they get in their rhythm and get to riding consistently, they find whatever it is that makes them go fast. It is weird. I've always wondered about that because guys who race motocross, they're on the bike three or four days a week.
Sean: Yeah. It's a great point. They go to their practice track in the middle of the week leading up, and I'm like, you guys haven't been on it forever. I have another question different from that one, but it's leading into this weekend just to kind of set the fans up a little bit. Related to your commentary, what are you looking for coming into this weekend regarding, pick any class, any couple of riders, what are some lead things in your mind that you want to see or wonder about this year?
Roger: I'd like to see Toni (Elias), if he can find his form that we haven't seen yet, for whatever reason. Obviously he's a great rider. He's won a ton of races. I don't think we've ever seen him struggle this stretch that we've seen. So I'd like to see if he can bounce back. He's pretty good at this track. He's won some races here. Then also in the supersport class, Sean Dylan Kelly. I personally thought he was just going to walk away with the championship, and Richie Escalante, I think he surprised everybody. He's going to be the biggest surprise of the year almost, since maybe Dominic Doyle. Those two I'd really like to see get their season started and at least battle for the win. They don't have to win, but at least really close that gap.
Paul: I can't remember Toni not being on a podium in four races. It was always odd if he got third because you're used to seeing him second or first. That brings up Cameron Beaubier. He obviously likes the new bike. He fits right in with the new team. I don't think the changing team was as big for him as it had been for Tony. But once you get to the level where he's at where he's kind of got another step on everybody and confidence in the way he feels, that's a pretty good combination right now, don't you think?
Roger: Especially with Cameron just because he is so good. He's the most naturally talented guy that I've ever rode with.
Paul: Toni said the same thing to me a couple years ago, and Toni has raced against some pretty stellar guys.
Roger: You ask everybody who's got the best style, and everybody says Cameron is awesome to watch. It's true. He doesn't always look that fast and then you look at the lap times and it's like, whoa. We talked about that a minute ago about how guys who don't ride that much during the off-season. Cameron said this year that this was the most he's ever rode in the off-season. Toni and those guys, I think they rode once, maybe twice. I don't even know if it was twice. So Cameron kind of started the season ready to go, and it seems like maybe Toni started on his back foot a little bit. The Superbike class is so competitive. You can't do that.
Paul: They've been the opposite of that because Toni usually does start really fast and Cam doesn't, and now it's flip-flopped.
Roger: Cameron is on another level right now. Actually Bobby was really fast in that Superbike race that he won. Cameron wasn't just that far. He was pulling away and had it in control, but it was only two seconds. The previous days it was four or five already. Hopefully one of those guys can step up, but right now Cameron almost looks unbeatable. I know everybody's beatable and can have a bad day, but he's got that confidence. He looks like he's having fun. He doesn't really get stressed out. He's always pretty mellow even when he wins or does bad. I think that works in his benefit.
Paul: So what is Toni thinking at this point? You were his teammate. I feel bad for him because he's just not used to that. I see a lot of, I don't want to say panic, but sometimes I watch what they're trying to do during a session and it's like maybe they're trying to do too much. They're trying to find two seconds instead of half a second or something. There are shocks lying on the ground.
Roger: And swingarms.
Paul: When I see a swingarm and a shock, I'm like, wow. That's down in the deep end.
Roger: I haven't just asked Toni because I'm not going to go up and say, "Hey, man, you're struggling." I know that they got new swingarms and different stuff that maybe Yosh had. I could be wrong. They're trying to make that work, instead of maybe doing what worked with Tony for so many years. Sometimes you can get lost in stuff and you try to change too much, besides what worked previously.
Sean: It's going to be interesting to see. We're looking forward to hearing your commentary on the air. What you do on MotoAmerica Live+ is fantastic. Thank you, Roger, for being on with us this week. Paul and I were looking forward to this one, for sure. Speaking of Live+, we want to make sure the fans know. Please subscribe to MotoAmerica Live+ and go to our Website for tickets to our rounds. We've got Pittsburgh coming up next week. We are going to have fans there. Tickets are available. We're looking forward to seeing you guys down the road.
Paul: I can't let him go without a cat question. I know you were the cat expert of anybody in this paddock. The other day by my house I saw a guy walking a cat on a leash. Is that accepted in the cat world?
Roger: I'm not a cat expert. It's my wife. I'm just learning about cats by default, just being there. I would have to ask her. I've never seen it but I guess supposedly if you just leave a door open, which I get yelled at for every two seconds, it's just going to bolt out and just take off and be gone. You'll never see it again. So maybe he's just scared that his little buddy is going to take off. You live in Southern California so who knows. It's just a different breed.
To purchase tickets for all MotoAmerica events, click HERE
For information on how to watch the MotoAmerica Series, click HERE
For the full 2020 MotoAmerica Series schedule, click HERE