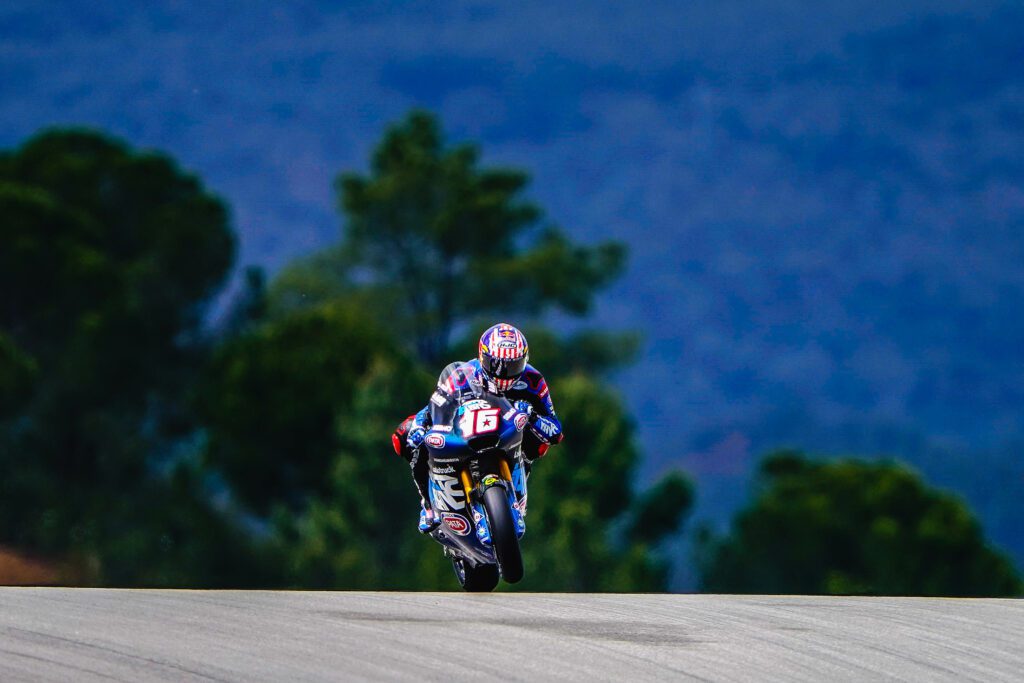 Italtrans Racing's Joe Roberts became the first American to win an intermediate class Grand Prix since John Kocinski won the 250cc GP at Phillip Island in 1990 as he took full advantage of a crash that took nine riders out of the race to win his first career Moto2 Grand Prix.
Roberts also became the first American to win a Grand Prix of any kind since Texan Ben Spies won the MotoGP race at Assen in 2011.
The race was red-flagged and restarted with just seven laps to go when nine riders crashed after hitting rain in one of the fastest portions of the track, including the top six in the race – which also included American Racing's Cameron Beaubier, who was running a close second when all hell broke loose. Beaubier was second behind Aaron Canet when the race suddenly ended when the top three highsided in synchronized fashion, followed by six more riders who also crashed out in the horrific incident. Fortunately, none of the nine were injured.
None of the top riders who crashed were able to make the restart and only 15 riders finished the restarted race.
Roberts ended up gridding on the restart from the front row. From there he was right behind Jake Dixon when the Brit crashed out on the opening lap. That left Roberts on his own and he was able to gap the field immediately. At the completion of the seven-lap sprint, the 24-year-old Roberts was some three seconds clear of World Championship points leader and a Moto2 World Championship race winner.
"It's been a long road for me, and it meant so much for me to get that win, especially for all the American fans back home," Roberts said. "I know it's been a long time coming, but we finally got it done. It's real nice to see the flag at the top there. I couldn't believe it the last two laps. I was like, 'I can't believe I have this gap.' I couldn't even ride the last lap. I was all over the place and I just wanted to not make a mistake and bring it home. It's an amazing day for my team, for everyone back home in America. I just want to say a big thank you to everybody who has supported me through this time. Let's hope it's the first of many."
Beaubier's American Racing teammate Sean Dylan Kelly was another who made it through the melee, and it resulted in the 2021 MotoAmerica Supersport Champion earning his first World Championship points with a 13th-place finish.
"That was pretty scary stuff, really," Beaubier said of the crash that took him out of what looked to be a podium finish at the very least. "I'm obviously super bummed because I was right there on (Aaron) Canet and riding good, but that doesn't really matter right now. I think what matters more is that everyone is safe after that because that was pretty scary stuff. Obviously, we're out for the race and I think everyone who crashed has to sit out for the restart. Like I said, glad everyone is safe and we can move on from that one."